Today marks 20 years since my dad left this earth. He was not yet 40 years old, and I was just shy of 10–so eager to enter the double-digit years, ready to grow older.
I had no idea how quickly I would be thrust into learning some of life's deepest lessons–on loss, on life and death, on the process of grief. My little 9-year-old brain couldn't quite take it all in, couldn't process the complexity of emotion or ponder the abstractness of life and death. My heart wasn't ready to be vulnerable enough for grief. 
So when he died on that day after the accident, on that 1st Sunday of my entire life when we had not gone to church, when my mom came into my room to tell me that he was…
When all of that came crashing into my normal childhood, I cried, for a bit. That's what you're supposed to do, I suppose. And then my mom left, out into the sad abyss of our living room, where The Adults were gathered. I could hear their muffled sadness drifting down the hall, and the only certainty I could grasp at that moment was that I did not want to be out there.
So I sat in my room, on top of my pink bedspread with the tiny flowers repeating their pattern countless times. I sat alone on my bed, except for the collection of stuffed animals that was always by my side while I slept, keeping me safe and warm. It felt like a dream, this strange air around me that had not existed 24 hours earlier. But I was 9, and I had probably never heard the word surreal. I didn't understand it, and I wanted something concrete to hold onto.
So I made a beeline out–down the hall, out the living room door, into the chilly spring air. And I played games outside with my friends.
And this is how I grieved–piece by piece by piece–all the way into junior high, through high school, and into college. A small moment of openness, of emotion, and then back to normal life. Processing whatever I could when I felt the sting of his absence in the celebration of life's big moments–the holidays, the graduations, the boys, the Sweet Sixteen. I would later learn that this process is called regrieving, and that it's normal for children who experience loss. It takes children much, much longer than adults to fully grieve and work through these complex emotions. 
If there's one thing I've learned though this, and through later grieving the loss of my grandfather when I was in college, it's that whatever I'm feeling or not feeling at the moment is okay and valid. I'm allowed to express my emotions freely, but I also don't have to manufacture them because I think I should be feeling a certain way.
When I was at college and my mom called to tell me that my grandfather had passed away, I didn't cry. I didn't cry that day or even all the way home to Maine. When people shared stories of how my grandfather had touched their lives as a pastor and a friend, I experienced deep joy. In fact, the weekend of his funeral was one of the most spiritually refreshing times of my life. And at the funeral, I cried. Not because I felt like I had to, but because I had given myself the freedom to experience and express my emotions as they came.
I wasn't worried about why I wasn't crying or feeling overwhelmed with sadness, and I was able to fully experience the joy and precious time spent with my family. I knew the sadness would come on its own–I loved my grandfather deeply and knew I would miss him. And it did come, in its own time.
So as this 20th anniversary of my father's death approached, I kept waiting for The Moment when I would be overcome with emotion. This is significant. Two decades. I was almost 10, and now I'm almost 30. Who have I become? How have I changed? And perhaps that moment will come. But perhaps it won't–I don't need to force it. Maybe it will come quietly instead when I'm at a wedding, or I hear a random song on the radio, or the next time I go hiking.
I miss him. I most certainly miss him every day. But just as love is not always something we feel but rather something that we do, in the small things every single day, perhaps the process of grief is not always felt by the pre-defined emotion of sadness, but it's something we do. We do it by talking about it–the happy things and the sad things and the real things and the angry things. We do it by continuing on in life, feeling the sting and the ache when they come, and embracing them fully. We give ourselves permission to feel whatever we're feeling and put away expectations of what we should be feeling.
Your journey will not be the same as mine–your experience, your emotions, your process. And that's okay. I hope that, wherever you are on this road of life, you'll know that what you are feeling is valid and you're allowed to express it, and that you'll find freedom in this process of grief and healing.
These reflections certainly aren't meant to sum up the entire process of my experience of loss, or anyone else's, though I hope these few things I've been pondering this week will be an encouragement to you. Two years ago was an especially emotional anniversary for me, and I shared a few of those thoughts here. Today, it's something different. Blessings to you, wherever you are on this journey of life.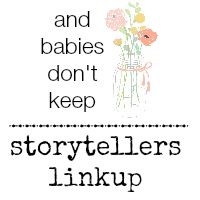 I shared this in the SITS community here and Twelvestep linkup here.